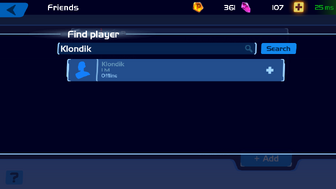 The Friends menu allows players to not only connect with their friends they wish to play with, but also see details about their friends and the current status of friends in-game. Details include their level and avatar as well as a few other things. Status will be one of the following:
Online – The player is online and not in a battle
In Battle – The player is online and is currently in a match
In a Group – The player is online but already in a different group
Recently Online – The player was online in the past 5 minutes
Offline – The player is completely offline
  To add a player to the friends list, players can either send them an invitation or accept one. Tap in the search field and enter the friend's player name. This search is not case-sensitive. Once a request is sent, players will see the friend added to their list with the status of "Waiting for answer". To accept a request, the player will need to tap on it and Confirm or Deny the request that appears in their Friend Menu. Once this is done, the player will be visible in the Friend List.

Players in a Friend List can be invited into a party prior to entering an arena. Once the group is ready, players can enter the match and the match-making system will find suitable foes. In a future revision, players will be able to add nearby players to their group with requiring them to be in their friends list. This will make it easier to complete groups, especially when friends are offline.